TRURO SAINTS 2022 Mini and youth RUGBY PROGRAM
Mini and Junior Programs
We are proud to offer two non-contact mini age groups, our Active Start/ FUNdamentals Mini Program for ages 5-7 and our Learn to Train Mini Program for ages 8-11, and one junior introduction-to-contact age group, our Train to Train Junior Program for ages 12-15. Our programs are designed around the Sport Nova Scotia long-term athlete development stages, in order to build proficient physical literacy in young players, and set all players up to be active for life. This program runs weekly, on Thursday nights from 5:30-6:30pm at the Truro Saints Rugby Park.
We are excited to offer this program as one of the most cost-efficient summer rugby program in the province. Although we are proud to operate as a non-profit program, we heavily rely on community-based grants and sponsorship. If you, or someone you know is interested in becoming a sponsor of the Truro Saints Mini Rugby Program, please contact saintsjuniordevelopment@gmail.com.
REGISTRATION IS OPENS in MAY! TRURO SAINTS MINI & JUNIOR SUMMER RUGBY 2022.

We are excited to offer 3 age groups again this year: 5-7 non-contact, 8-11 non-contact, and 12-15 introduction-to-contact.

Please see the info-graphic for all the awesome details, and contact: saintsjuniordevelopment@gmail.com with any questions

Don't delay, register online today:
https://reg.sportlomo.com/rugbycanada
History
The Timbits Rugby program was established approximately ten years ago, by local business owner and rugby enthusiast, John MacKenzie. John led the program for many years, in tandem with the Cobequid Educational Centre Girls Rugby Program. This created countless leadership opportunities for many young women, leading many down the path of a life-time of volunteer coaching. The program has taken many forms over the years, from an afterschool program, to a summer program, to a winter program hosted on turf fields. Our current Timbits Rugby Program is a nine-week summer program, running from June-August.
The Truro Saints Rugby Club is proud to have a bountiful program that engages so many young people in Colchester County.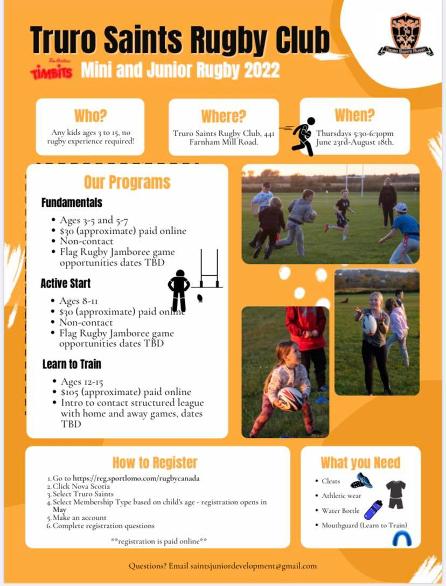 Registration
See the Flyer for all you need to know to register your little one in Mini and Youth Rugby programs at Truro Saints RFC
With just a few simple clicks of of the mouse your future rugby star will be ready to start their bright rugby future.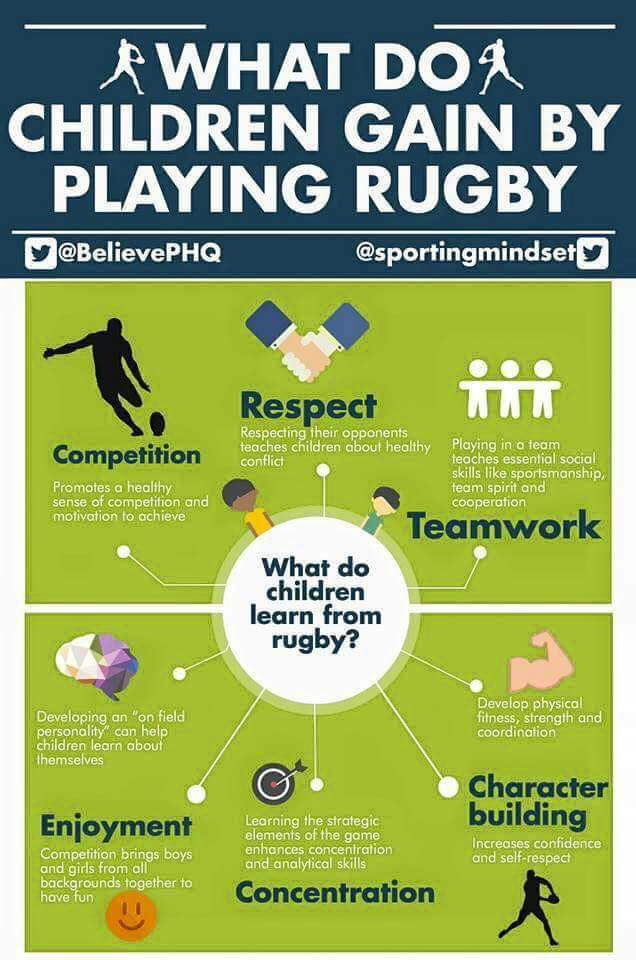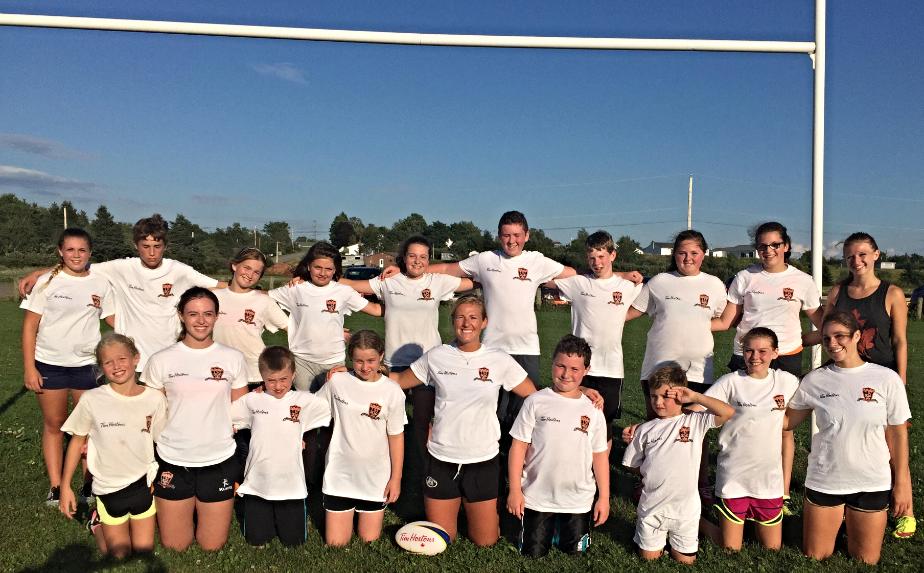 Community Engagement
Although our program runs during the summer months, our coaching team is deeply involved in presenting rugby introductions at various locations in the community. During 2016-2017, we've had the pleasure of presenting rugby sessions at the following locations during gym classes:
- Truro Junior Highschool
- West Colchester Consolidated Elementary (Bass River)
- West Colchester Consolidated Junior High (Bass River)
- Valley Elementary School
- Cobequid Consolidated Elementary School (Old Barns)
And during the following special community events and programs:
- Tatamagouche After School Program
- The First Annual Lacrosse & Rugby Girls Day Camp
- The Hilden Elementary Field Day
- The 2016-2017 Colchester MultiSport Program
- The Colchester Recreation – Fun in the Sun Day Camp - All-Star Summer Camp
- Rookie Rugby Jamboree during the Canadian Rugby Championships in Truro
- Commitment to The 2017-2018 Colchester MultiSport Program
If you are interested in having our team of certified, NCCP Level Coaches, present a rugby introduction at your school, summer camp, or community event, please email saintsjuniordevelopment@gmail.com. Please keep in mind that these events are presented by volunteers, who's availability may change depending on the time of year. Thank you for your patience.