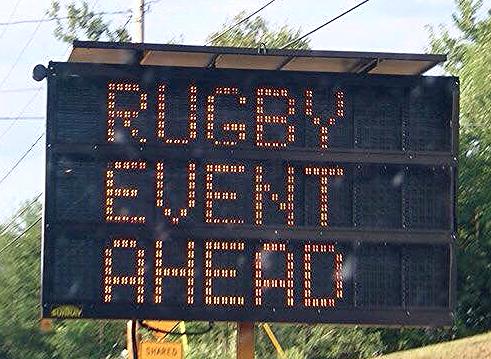 2018 Truro Rugby Indoor 7's World Championship
The much anticipated, hallowed event returns to the MacMillan Show Centre in Bible Hill Nova Scotia this March 9-11th. The tournament, more affectionately called Rugby Christmas, will see teams from across the country descend on Truro to compete in this annual championship. As one of the longest running tournaments in the country there plenty of rugby for everyone.
Are you one of the few people who can say that you don't know the event?? This is the year to change all of that! People from far and wide make the annual pilgrimage to the event, often many years after they have stopped competing in the event. The is something for everyone, whether you are a player looking to test your mettle, a former player looking back on fond memories, or even just a curious spectator looking to experience something new. There is no other event like it in Canada.
Come down and see what all the excitement is about!!
2017 Rugby Canada CRC
This year Truro Rugby Club and Rugby Nova Scotia were honoured to host some of the finest rugby players in the nation as they competed for the 2017 CRC Titles. Many fans came out to support the Keltics in their pursuit for the top spot in the country. With the clean up finished and dust just starting to settle now at the Truro Rugby Club in North River we start to look ahead for more premier events at the club.
Club President Owen Hutchison:
"Now that the dust is long in rear view mirror I just want to thank everyone for making nationals a huge success. We definitely put the club on the map for Rugby Canada events in future."
Provincial Coach Jack Hanratty:
"...With all these results nothing was as special as the performance of Truro Saints RFC.
From start to finish the members of the Saints were incredible. From a stellar canteen - ball boys and girls to running around with mini rugby starts of the future and of course Dick on the field every evening making sure it was as good as new for the following day.
Truro the country came and you delivered.
Thanks to every player, coach, manager, referee, volunteer, photographer from the last number of weeks who helped showcase our province."
Truro Daily News articles about the Keltic Senior Women and the Atlantic Rock U-19 Men
2017 Banquet
Understanding that the holiday season is a very busy time for most of us, it has been decided that the 2017 Banquet will be held January 27th at the club. The night will be packed with Awards, Potluck Dinner, and Social. Stay tuned for details of the event and check in to the Facebook Event Page for up to date information.
2018 Rugby Christmas
We all know that magical time of year, and no we aren't talking about actual Christmas...Rugby Christmas is nearly upon us. March 9th, 10th, and 11th is nearly upon us. Stay tuned for more details as they are made available for the 2018 Truro Saints RFC Indoor 7's Championship at the MacMillian Show Centre
Free Exercise
The Truro Saints RFC are offering free exercise to any human, able or otherwise. No coupon, experience or membership required. Offer is valid Friday evenings starting August 25th. All you need to do to receive your FREE EXERCISE is to show up at the Cougar Dome with 5$ Friday night and join us for some Touch Rugby with a social to follow. Whether you have played rugby, only watched rugby on TV, or stood next to someone once who said the word "Rugby", you are welcome. This offer is open to the public, and for all to enjoy. Spread the word so that none of your friends miss out on this opportunity to get free stuff
One person was said to be overheard saying, "Great to have so many people coming down to touch rugby in the last 3 months. Since starting in August, we have had over 60 different players, with 15 on average each night. Touch Rugby at the Cougar Dome is each Friday night and we'll just keep going as long as we can. If you haven't been down yet, come give it a go!" Coach Dan Mosely
Come out and claim your FREE EXERCISE with Truro Saints RFC at the Cougar Dome before someone takes your share and you have to pay for it somewhere else.
UPDATE
Saints, you will never have to miss another event; check out the updated calendar with practice and match times posted for the season. Keep updated with this up to the minute calendar of all club events
TIMBITS
The future of rugby in Truro looks very bright indeed, as timbits are exploding on to the scene at the rugby club. If you missed out on seeing the invasion force of more than 80 youths we had last season, stay tuned for more details on Timbits Rugby 2018 Season.